"Treat Your School" Scholarship
2018 "Treat Your School" Scholarship winner:
Katie Delmore, 4th Grade student at Yarbrough Elementary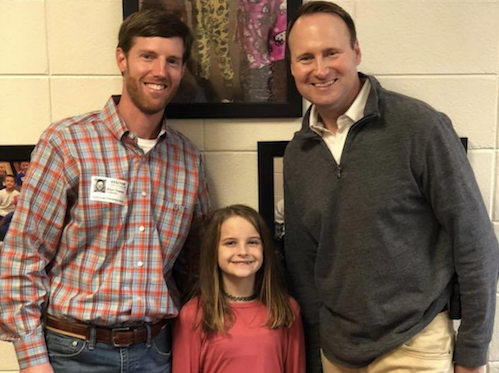 Your school has the chance to win a $1000 check!
Because we have so many fantastic schools in our community who have supported us over the years, Thames Orthodontics is excited to give back! To enter your school for a chance to win, simply tell us why you love your school. Please note that you do not have to be a current or former patient to participate. We encourage anyone in the community to let us know what is special about your school.
E-mail us at info@thamesorthodontics.com and write "Treat Your School Contest" in the subject line. In a few brief paragraphs, tell us why you love your school. If you can convince us that your school is the most deserving, you will get to help us present the $1000 donation to your school! We look forward to hearing from you and celebrating with the deserving school!
---

SMILE Scholarship
2019 Smile Scholarship winner:
Meredith Farrow, graduating Senior from Auburn High School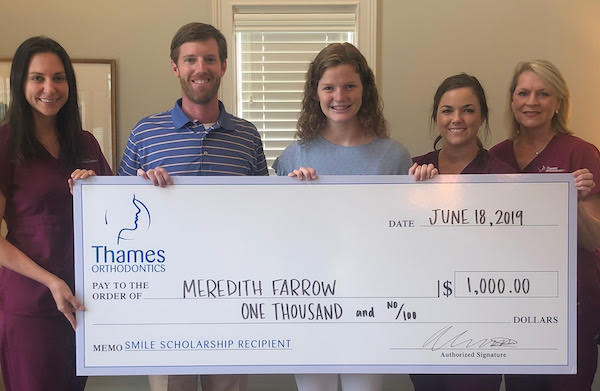 Area seniors have the chance to receive a $1,000 scholarship!
About The Scholarship
Each Spring, Thames Orthodontics offers a Smile Scholarship to a graduating senior in the Auburn/Opelika community. We are constantly thankful for the support of our community and want to return your trust and support by supporting the continuance of education among our high school seniors!
You do not have to be a current or former patient to apply. This is open to any graduating senior willing to let us know what makes you smile (details below). Simply write an essay entitled "What Makes Me Smile." Creativity will certainly shine! We look forward to hearing more about you!
Essay Instructions
In 400-500 words, tell us about a time in your life that truly made you smile. We're not just talking about a little smile, but a big one! Huge! You know the kind of smile that's so big it makes your cheeks hurt? That's the story we want to hear! It could have been a celebration, a heart-warming moment, an act of kindness, or just a funny happenstance. If your story makes us smile just a little bit more than everyone else's, then you'll receive the Smile Scholarship! We can't wait to hear your story!
Instructions For Students
Download the application from our website and include all necessary information and essay. Return to the address below: Thames Orthodontics - Attn: Shelley Trentacosti, 719 North Dean Road, Auburn, Alabama 36830
For Counselors & Teachers
Download the application from our website and distribute to any interested students.